Horizontal Pouch Fill Seal Machine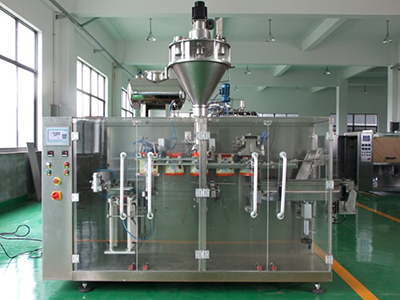 The horizontal pouch fill seal machine carries out automatic bag picking with a suction cup, bag opening, filling, sealing, and finished products conveying when the packaging bags are stacked in a fixed position. There are many applicable packaging bag styles such as triangle bag, pillow pack, flat bottom bag, zippered bag and more. This equipment can also be equipped with various weighing machine types (automatic weigher, volumetric weigher, multihead weigher) to achieve packaging of different material types, including granules, powders, thick liquids and more. The fill seal machine features a large packaging capacity range of 0.2 to 5kg.
Applicable materials
Granules: sugar, chicken seasoning powder, nuts etc.
Powder: milk powder, monosodium glutamate, condiment, fertilizer etc.
Thick liquid: detergent, yellow rice wine, soy sauce, juice, beverage, ketchup, peanut butter etc.
Package material
This horizontal pouch fill seal machine uses various composite membrane types, including PET/PE, Paper/PE, PET/AL/PE, OPP/PE, PET/APET/PE, BOPP/PE etc.
The following types of horizontal pouch fill seal machine are produced by Siyuan
| | | | | |
| --- | --- | --- | --- | --- |
| Type | SY-180G | SY-210G | SY-240G | SY-260G |
| Package width | 70-75mm | 90-95mm | 110-115mm | 130-135mm |
| Package length | 180-225mm | 210-320mm | 240-350mm | 260-380mm |
| Speed | 40-60 package/min | 40-60 package/min | 40-60 package/min | 40-60 package/min |
| Max packaging capacity | 400ml | 1000ml | 2000ml | 2500ml |
| Blanking working position | 1 | 2 | 2 | 2 |
| Power supply | 3.5KW 380V 3phase, 50HZ | 4.5KW 380V 3phase, 50HZ | 4.5KW 380V 3phase, 50HZ | 5.5KW 380V 3phase, 50HZ |
| Working air pressure | 0.6Mpa | 0.6Mpa | 0.6Mpa | 0.6Mpa |
| Weight | 1000kg | 1000kg | 1200kg | 1400kg |
| Outline dimension | 2450x1100x 1500mm | 2650x1100x 1500mm | 2850x1100x 1500mm | 2850x1100x 1500mm |
Packaging process
1. Premade pouch stack
2. Pouch picking
3. Zipper opening
4. Pouch opening
5. Air flushing
6. I Filling 1
7. II Filling 2
8. Pouch stretching
9. Heat top seal
10. Cooling top seal
11. Finished product
12. Out let