Horizontal Pillow Pack Machine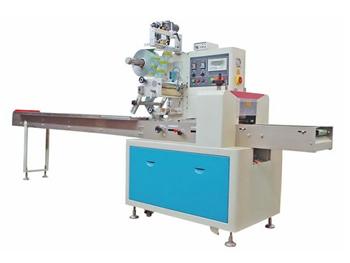 Pillow pack machine is suitable for the packing of biscuit, bread, moon cake, candy, medicine, ordinary paper boxes or salver and such kinds of solid regulated materials.
Features
1. Pillow pack machine features high precision photoelectric eyes control follow-up and exact seal position.
2. The main control circuit of pillow pack machine takes use of single chip and transducer to control drive and well interface for easy operation.
3. Pillow pack machine can independently control seal temperature and fit for various kinds of packing materials with nice and firm seal.
Specification
Model
SYZS-250
SYZS-320
SYZS-350
SYZS-400
Film Width
250mm
320mm
350mm
400mm
Bag Length
45-90mm
65-190/120-280mm
90-220mm
65-190/120-280mm
90-220/150-330mm
65-190/120-280mm
90-220/150-330mm
130-320mm
180-400mm
Bag Width
30-80mm
30-115mm
50-150mm
50-165mm
50-190mm
Product Height
35/40/55mm
45/60mm
45/60mm
45/60mm
Film Diameter
320mm
Packing Speed
40-230bag/min
Power
220V/2.4KW
220V/2.6KW
(LXWXH)
Machine Size
3770 × 670 × 1450mm
3770 × 720 × 1450mm
4020 × 770 × 1450mm
4020 × 770 × 1450mm
Machine Weight
800kg
900kg
950kg
980kg